Leadership
LEADERSHIP TRIAL
"Hey! I'm general Torashiro. So, you wanna be the leader?
You're gonna hafta go through some trials!"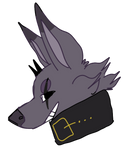 TRIAL 1: BRAVERY
Draw your character fighting a Nightmare Demon!
This can be as dramatic as you want-- if your character is not much of a fighter, maybe they fight off a small demon. Or if they can do it, they can fight off a larger one!


TRIAL 2: TEAMWORK
Draw your character working with someone or a group of people! Can be an NPC or someone else's charcter! It doesnt matter how they are working together, as long as it is towards a positive goal.


TRIAL 3: LEADERSHIP
Draw your character leading the way to some other creature(s)! Can literally be anyone!
Requirements:
1. halfbody at least (other characters can be less visible than yours)
2. Fully "colored" (can also be done in black and white, not just lineart)
3. Some sort of background (can be simple but must be a setting)



*They can all be in the same post*
please submit to this website, can also be submitted to other social media platforms as well.
*a Leadership badge will be given to you after a review*